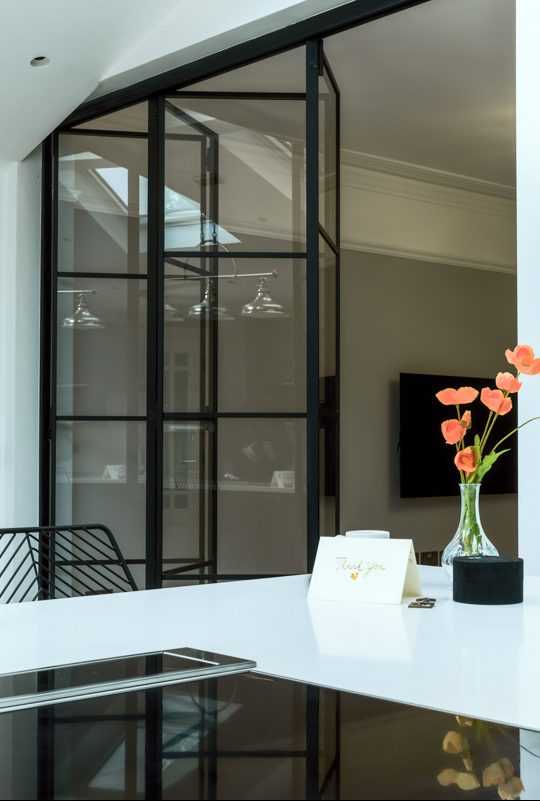 internal BI-FOLDING DOORS
An ultra contemporary design unique to Black Steel, our Steel Bi-Fold Doors give you a strong, secure way to maximum light and have a peerless style.
Our signature doors bring a new dimension of modern, industrial-style design and functionality to your home or workspace. Black Steel's bi-folding doors are built with slimline frames that allow an amazing level of light into the room, while being strong and secure enough to open up an entire exterior wall, merging your interior living space.
WHY CHOOSE STEEL?
All of our frames are crafted from steel, which is up to three times stronger than aluminium alternatives, giving you doors that are less likely to warp under weight, force or heat. This strength also means we can offer slimmer frames and improved sightlines, maximising light and space without compromising security. Our frames also come powder-coated as standard, to keep your steel pristine.
Our external partitions have some of the slimmest profiles in the industry, refusing to compromise on either strength or elegance.
MAKE IT YOURS
Bi-fold doors are incredibly versitile, fitting in to your design vision. We offer these frames in a wide range of colours and finishes, so your doors will compliment whatever space you put them in. Download our style examples below to get some ideas to start you off.
*Please note that these prices do not represent your final project price; each project demands different needs, and the prices vary by project. These prices range are only a relative idea of prices. Do never assume these prices as a product price. We appreciate your understanding.
** These sizes are only suggestive sizes.
FEATURES
Strong & secure
Multi point TS007 3 Star cylinder locking systems are supplied on all of our external doors as standard.
Modern look
A modern, sophisticated look to bring the best out of modern or traditional building designs.
Slim sight lines
Steel gives 3x the strength of aluminium in thin frames, maximising glass and light.
Highly configurable
Whatever the space, our combination of products will give you a practical, elegant solution.
Flexible use
Can be combined with our range of external and internal doors, and partitions, to create a unique look for your space.
Glazing
We offer a wide range of glazing options to perfectly match your property's look.
Colours & finishes
In addition to our standard range of colours we can supply the windows or frames finished in any Ral colour. (May incur additional costs.)
TELL US MORE ABOUT YOUR
PROJECT